Coronavirus / COVID-19 information and links
The Coronavirus, aka COVID-19, is undoubtedly the worst virus that most of us have seen in our lifetimes. Here are some simple facts. I will continue to update this page as long as necessary (and possible).
The incubation period (how long until the onset of symptoms) is 2-14 days after exposure.
We do not yet know how contagious people are during the incubation period.
Research suggests the number of confirmed COVID-19 cases is growing exponentially worldwide with the number doubling about every six days.
How you can help
Everyone can help during this world-wide pandemic.
---
Wizardly Tips for Pandemic
Avoid going out in public as much as possible.
Covid-19 is transmitted via breathing in air that other people exhaled. Therefore the below recommendations are all just common sense ways to reduce the likelihood of catching it.
When you are out in public, always wear a mask.
Avoid going to restaurants. If you do go, get take-out and then go home or to a park/nature setting to eat away from everyone else.  If you do eat at a restaurant, eat outdoors and choose a table on the edge.
When in any public setting (including outdoor restaurant seating), position yourself upwind.  That way fresh air is blowing towards you. If you sit downwind then the air is blown through the public area towards you which increases the distance that the virus can travel.
Avoid getting on elevators. If you have to get on an elevator and you see someone get off that wasn't wearing a mask… don't get on.  If others try to get on with you that are not wearing masks, get off or ask them to wait until the next elevator and point to signs that require masks and fewer people in elevators.  Always before you get on an elevator take a deep breath and try to hold your breath the entire time you are on the elevator.
Even when wearing a mask, always cough or sneeze into your elbow.
Eat healthy and get lots of vitamin D. You can get vitamin D by getting lots of sunlight on bare skin, eating certain foods or by taking quality supplements. Do a little research to find out which way works best for you. Scientific studies show that being vitamin D deficient makes you more prone to catching covid-19.
Masks are cheap and now N95 masks are available even on Amazon. I recommend buying some N95 masks. They are not as comfortable but they are more effective. When I have to go to areas with lots of people I wear an N95 mask; when I go for a walk where I am not likely to see many people, then I wear a normal mask. When I had to travel on a plane I wore an N95 mask and face shield.
If you have tested positive for coronavirus or have symptoms, then your rules should be slightly different.
Do not go out. Self quarantine. Stop the spreading. Be responsible.
If you must go out (and you shouldn't!), wear a mask and make sure there is at least 12 feet between you and everyone else.
Never be upwind of anyone. The wind will carry your exhales further and infect more people.
Online Doctor Calls
Here are four websites that provide doctors on demand. This way you can visit a doctor using only your phone or web browser. No need to go out in public and wait in rooms with other coughing patients!
I haven't tried any of these yet and my insurance provider said they probably are not covered by insurance. It is still well worth it to avoid going out in public. Some of these offer 24/7 service.
Beat Cabin Fever!
While being under quarantine it is very important not to go stir crazy. Do not let despair and fear turn your life into living hell. There are things you can do to stave off cabin fever.
You know you have been putting off reading that one good book for years… well now is the time! Download it to your Kindle or have Amazon deliver it to you.
If you live somewhere cold, make a nice fire and read by the fireplace. If you live somewhere warm and sunny… now is a great time to set up a lawn chair in the backyard and read while getting some sunshine.
Just because you should avoid crowds does not mean you have to be miserable. Play cards or a board game with your family. Or work on a puzzle.
Remember all the times people told you to stop being anti-social because you were playing online computer games non-stop? Well now is the time to tell them you are being socially responsible by playing online computer games non-stop!
Do you have a backyard? Go play catch, make a garden, or throw your dog a stick.
Do you have cats? Time to make some home-made cat toys and drive them crazy.
Or you could binge-watch shows on Netflix, YouTube, Hulu, Gaia, Acorn, HBO, Showtime, Disney Plus, or some other program. Binge! It's totally fine to order new subscriptions, watch for a couple months and then cancel. Most of these services are only $6 to $8 per month and can provide hundreds of hours of entertainment value.
Have you ever played Dungeons and Dragons? There is a great way to play online. You can see other players with video and audio options. All of it is free at Roll20.net. That website is built for people to play games together remotely and they have more than just D&D.
Don't despair. Just avoid people for a few weeks so this time of trouble can pass. There is plenty to do which is fun and has been on your to-do or "I want to do" list for a long time. Now is the time to spend some me-time and read that book, learn yoga from YouTube, plant that garden, do that backyard project you have been avoiding.
Medical Information
Ivermectin
Ivermectin is currently being investigated as a treatment for coronavirus SARS-CoV-2, which is the virus that causes COVID-19. The trials so far have shown ivermectin reduces the number of cell-associated viral DNA by 99.8 % in 24 hours. Further studies are needed to determine the effectiveness of this medicine in humans with COVID-19.
Overall mortality was significantly lower for the ivermectin group (15%) compared to the usual treatment group (25.2%) using figures from the unmatched cohort.
Mortality for the subgroup of patients who had severe pulmonary involvement was lower in the ivermectin treatment group (38.8%) compared to the usual treatment group (80.7%) from the unmatched cohort.
Research Links
Is Ivermectin an approved medicine by the FDA?
Ivermectin tablets (Stromectol) is an approved medicine by the FDA for use in intestinal worms.
Ivermectin can block the cargo transporter, so the viral proteins can't get into the nucleus. This is how the scientists believe Ivermectin works against SARS-CoV-2 virus.
By taking Ivermectin, it means the body can fight the infection like normal, because its antiviral response hasn't been reduced by the viral proteins.
Ivermectin, an FDA-approved anti-parasitic agent, was found to be an inhibitor of SARS-CoV-2 replication in the laboratory.
Ivermectin may be effective for the treatment of early-onset mild COVID-19 in adult patients.
Early viral clearance of SARS-CoV-2 was observed in ivermectin treated patients.
Wizard Insights
USA and UK are ignoring the potential of using Ivermectin because there is no profit for Big Pharma. Ivermectin has been used for humans for over 35 years, it is effective and affordable. Big Pharma would prefer expensive solutions. Ivermectin has seen fantastic results in Brazil, Peru and other countries.
Amazon sells Stromectol which is Ivermectin for $4.77 per 3mg tablet. I bought 6mg tablets in Mexico for $3.75 making the 3mg cost $1.88. No surprise the cost of medicine in Mexico is 40% the price of same medicine in USA.
Dosage
Take ivermectin on an empty stomach, at least 1 hour before or 2 hours after a meal.
Ivermectin is usually given as a single dose. Take this medicine with a full glass of water.
If you have a weak immune system (caused by disease or by using certain medicine), you may need to take more than one dose of ivermectin. Some people who have a weak immune system need to take this medicine on a regular basis. Follow your doctor's instructions.
From Covid19TreatmentGuidelines.nih.gov: Ivermectin administration was reportedly consistent with hospital guidelines: a single dose of 200 µg/kg (1mg/11 lbs), with repeat dosing on Day 7 if the patient was still hospitalized.
Patients with heavy ocular infection or immunization problems may need different dosage and should do additional research.
Dosage guidelines based on body weight:
Dosage is at 1mg/5kg or 1mg/11 pounds.
15 to 22 kg (30 to 49 lbs): 3 mg orally one time
23 to 37 kg (50 to 83 lbs): 6 mg orally one time
38 to 52 kg (84 to 116 lbs): 9 mg orally one time
53 to 68 kg (117 to 150 lbs): 12 mg orally one time
69 to 83 kg (151 to 184 lbs): 15 mg orally one time
84 to 99 kg (185 to 218 lbs): 18 mg orally one time
100 kg (219+ lbs) or more: 0.2 mg/kg (1 mg/11 lb) orally one time
What should I avoid while taking ivermectin?
Drinking alcohol can increase certain side effects of ivermectin.
Ivermectin side effects
Get emergency medical help if you have signs of an allergic reaction to ivermectin: hives; difficult breathing; swelling of your face, lips, tongue, or throat.
What are the possible side effects of this medicine?
Side effects that you should report to your doctor or health care professional as soon as possible:
allergic reactions like skin rash, itching or hives, swelling of the face, lips, or tongue
breathing problems
changes in vision
chest pain
confusion
eye pain, swelling, redness
fast, irregular heartrate
feeling dizzy, faint
fever
redness, blistering, peeling or loosening of the skin, including inside the mouth
seizures
uncontrolled urination, bowel movements
unusual swelling
unusually weak or tired
Side effects that usually do not require medical attention (report to your doctor or health care professional if they continue or are bothersome):
constipation, diarrhea
headache
joint or muscle pain
loss of appetite
nausea, vomiting
stomach pain
tender glands in the neck, armpits, or groin
tremor
This is not a medical website. These are not medical recommendations, just reporting. Do your own research and talk with a doctor you trust.
Vitamin D
Vitamin D: Research shows those deficient in Vitamin D are more likely to catch coronavirus and those that catch it are more likely to die from it if vitamin D deficient. You can get vitamin D by getting lots of sunlight on bare skin, eating certain foods or by taking quality supplements. Do a little research to find out which way works best for you. Make sure you are not deficient!
More than 80 per cent of hospitalized COVID-19 patients had vitamin D deficiency: study
Can vitamin D help with symptoms of COVID-19? Possibly, it's key to helping your immune system function
Vitamin D deficiency may raise risk of getting COVID-19, study finds
Other
Excellent article: COVID-19 Is Raging. How Safe Is Your Backyard Party?
The reported rates of infection in one study are about 13% for typical interactions at a distance of less than one meter and 3% for a distance of more than one meter. A face mask reduces these numbers by a factor of 5. As before, you can modify the details of the above to suit your situation…

The risk calculated above, however, needs to be modified by what we now know about the spread of the novel coronavirus. Recent research shows that as few as 10% of infected people might be responsible for 80% of the spread of the virus. Since the period in which people are presymptomatic and infectious only lasts for two to three days, we can apply this information to backyard parties.
Good news for UK: UK to make 15-minute at-home kits available "within days".
COVID-19 Small Business Government Support Resources Available (world wide). This includes link to FAQ's For Getting A US Federal Disaster Relief Business Loan.
I have heard conflicting stories regarding whether drinking hot drinks helps or not. Regardless of that, much of what this video says is good advice. Even if some of it is not 100% accurate, daily doing a warm salt-water (or vinegar, or… listen to video) gargle certainly cannot hurt and if there is a 1% chance it might help you… might as well try it. Note: this was recorded March 20th, 2020 so is somewhat dated.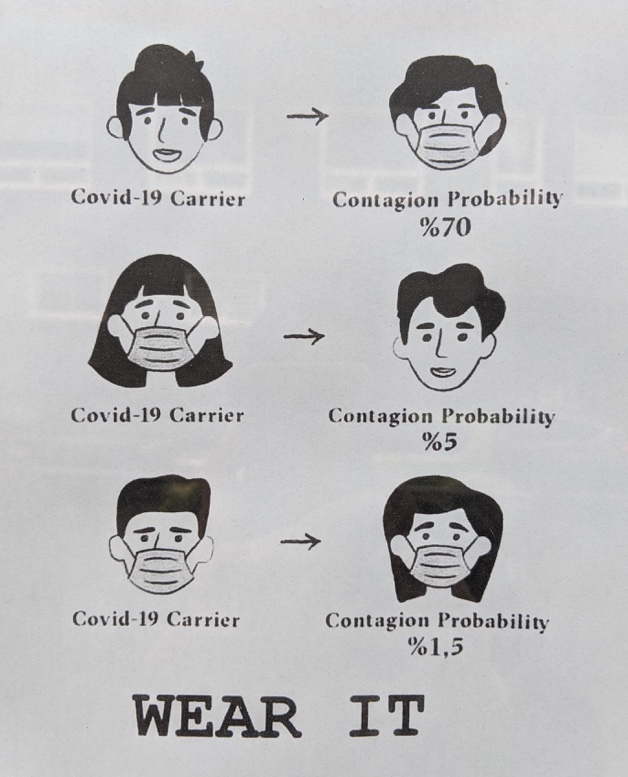 ---
Letter to Virus Deniers
Today I heard a new excuse for ignoring the coronavirus. This blew my mind. The basic failure in logic is stunning.
Some people think COVID-19 is a hoax. Some people think some Cabal created this as part of a grand conspiracy. Both these groups use that as justification to continue going out and socializing as if nothing is wrong.
I am going to try not to pass any judgement on the intelligence levels of these people or ideas. Instead let's just stick with the facts.
People are dying. Yes people die from the flu every year but this virus is much, much more contagious.
If it is a hoax then World Health Organization, NIH (National Institute of Health), and Johns Hopkins University are all being fooled. Do you really think they are all "in on it"? That is highly unlikely and would be a first in our history.
Is the virus from the Cabal? Frankly it does not matter where the virus came from or whether there is a hidden agenda. When a bomb is sitting in front of you the correct action is to run as fast and far away as possible, not to sit and ponder who sent the bomb! Conspiracy theories are NOT RELEVANT at this moment. This extremely contagious virus exists and is deadly - that is all that is relevant at this time.
Risk versus Reward
Should you continue to go out in public and socialize?
If this is a hoax and you stay inside and self-quarantine… you have a week or two of staying around the house. Make the best of it and work on your backyard, play board games, binge watch Netflix, reorganize the garage, etc.
If this is a hoax and you go out… you have a few days of regular activity. Value of that: nothing, it is just like every other day of the year.
If this is NOT a hoax and you go out… you start a domino effect of death. YOU might get sick and get better, but the odds are you will infect several other people. Some of the people you infect will die. Everyone you infect will infect others of which some of them will die. You might not care that nurses and doctors will be working non-stop and have to decide which people live and die when they run out of ventilators… but the people that die care and those doctors will have guilt nightmares for life.
Scenario
The virus-denier feels healthy and wants to go to the bar or night club. They go and dance in a packed room with hundreds of other people. They get infected and take it home. Over the next 2 weeks they have no symptoms but they infect their parents, sister's kid and their grampa. Grampa goes to bingo and infects 6 seniors. The kid goes to preschool and infects a dozen children. Virus-denier has already gone out to two new clubs and passed the coronavirus to 40 other healthy 20-somethings or 30-somethings.
Two months later the majority of the senior center are dead and since the entire school caught it, that killed hundreds of children. But don't worry, there's a happy ending. The virus-denier lives and had several really good nights dancing!
I really hope this turns out to be a hoax and everyone on earth emails me saying they needlessly stayed in their homes for 2 weeks and got work done around their house. They can hate me for that. However I fear what will really happen is people will go out, come home and infect their parents, grand parents and children. Then the parents/children and grand parents will go out and infect others. Then the death starts in an exponential spiral. Going out is just not worth the risk.
If I am wrong and it is a hoax you can feel great telling me I was stupid. How will you feel if you are wrong and people die?
-Akronos Mago
---
Some Good News
We have a long way to go before we are safe from the pandemic. The best thing you can do is avoid other people, aka self quarantine in your home.
However there are 15 news stories around the globe about good progress against the pandemic.
Coronavirus: 15 Good news stories from around the globe, show things do get better!
Don't give up hope! Also do not get foolishly optimistic and go outside! Just stay safe and secluded until vaccines are made and cures are manufactured.
Banking News
Many banks in Panama are allowing people to skip payments on credit cards, personal loans, home loans, and car loans. Hey, USA and other countries… can you be as forward-thinking as Panama?!?
Note: when banks offer this you often must fill out a form requesting it. Do not just skip your payment. Look online for your bank to see if they are offering similar programs.
Corporations Should Help
We are having a country-wide crisis. Now corporations and utility companies should be acting fast - not waiting for government intervention. Leniency on payments for a few months. Discounts or free for core services that everyone needs. Discounts for entertainment services that will help the masses avoid cabin-fever.
Anything that can help, now is the time to prove your corporation cares about the people who have been supporting them all this time. Hey Apple, how about steep discounts for iPads that go to senior centers or hospitals so those in quarantine can FaceTime with their loved ones? Things like that. Let's all pull together and try to make this bad situation a little less horrible.
Corporations That Are Helping!
A big thanks to the companies that have stepped up and are helping out!
Company
Website>
Offer
Comcast / Xfinity
News Story
Free access to WiFi hotspots for everyone.
New low-income customers will receive two free months of Internet service, which is available to all qualified low-income households for $9.95/month plus tax. Apply by June 30, 2021. For all new and existing Internet Essentials customers, the speed of the program's Internet service has increased to 25 Mbps downstream and 3 Mbps upstream. Households with outstanding debt owed to Comcast may be eligible for Internet Essentials. We are waiving this qualification if you apply and are approved by 06/30/21.
BroadwayHD.com
News Story
For a 7-day free trial, viewers can log onto BroadwayHD.com and access a wide catalog of classic and new musicals, including Cats, The King and I, and Sound of Music. The platform also features recent performances of shows like Kinky Boots and 42nd Street.
CBS All-Access
cbs.com
7-day free trial, tons of original series.
Star Trek fan? Picard, Original Series and Star Trek: Discovery are available. Plus stream more than 12,000 episodes of your favorite daytime, primetime and late night CBS shows, catch up on classic hits or enjoy exclusive CBS All Access Original Series.
Evite
website
Send a card (via email) to show your support
During this challenging time, stay connected with the ones you love. Send any Premium Card at no charge to family, friends, co-workers, students — anyone who needs a little extra love right now.
Harbor Freight
Harbor Freight decided to donate their entire supply of the personal protective equipment items below to front-line hospitals with 24 hour emergency rooms in the communities serverd by their stores.
N95 Masks, Face Shields, 4 and 7 mil Nitrile Gloves
This was done in April when it was needed most. Thanks Harbor Freight! https://hf.tools/ppe-request
For binge-watching shows, here's a long list of recommended options. My personal favorite YouTube Channels are here and can provide weeks of entertainment of which much is very informational.
If you know of others, send me the information and a verified link confirming the news. I'll then add them to this list.
Vaccine Status
Pfizer was the first to develop a vaccine and countries are already vaccinating people.
Moderna was the second to develop a vaccine. As of 12/23/2020 Trump is blocking distribution of the Pfizer vaccine and keeping it in warehouses while he expedites the delivery of the Moderna vaccine to the American people because he has a vested financial interest in Moderna. Frankly I do not trust anything that Trump is involved with so I'll be waiting for the Pfizer vaccine and will not take the Moderna one.
Pandemic Spread Status
In December 2020 it has been reported there is a new, more deadly strain of coronavirus. This new strain was most likely started in the United Kingdom. It has definitely already come to the United States. Panama has a new strain as well - this might be the UK strain or may be a different new strain. People in Panama are dying at younger ages - I have confirmed deaths of a 38 and a 41 year old in December.
I wrote a blog about what the real mortality rate is based on Excess Death and other variables. Blog is on minds.com and open to public.
In USA on September 23rd, 2020, there were 1,241 deaths from coronavirus bringing death toll to 206,801. USA has many more deaths than any other country and many countries are not allowing entry to US citizens. Over 7,145,269 people infected in USA. Worldwide 31,937,244 infected and 977,624 died. We are quickly approaching 1 billion dead in the world due to covid 19.
This shows the speed of the virus spreading compared by country. These screenshots are from Center for Systems Science and Engineering (CSSE) at Johns Hopkins University (JHU).
People of earth, please slow down the spread of COVID-19. If you have any patriotic pride then consider this a challenge. Try to make your country not go up the list. For example, notice that on March 20th the USA was 6th on the list for most confirmed cases but on morning of March 22nd they are up to 4th most confirmed cases in the world. That's horrible - USA is losing.
Based on second column, in less than 2 days, the USA confirmed cases have increased by 45%.
The number of confirmed cases in California during that same period increased 32%.
Based on third column, in 2 days and 7 hours, the USA confirmed cases have increased by 89%
USA now has third most confirmed cases of coronavirus in the world. Why are their numbers increasing so fast? Is there anything you (US citizens) can think of that you can be doing better (like self-isolating)?
As of March 28th 9:21am PST the USA is highest in confirmed cases with 105,573. At this point they have lost the global contest of protecting their citizens.
As of April 18th 11:28am PST the world has almost 2.3 million confirmed cases and 715,536 cases in USA. So far there are 37,625 deaths in the USA alone. In less than one month we have gone from 18 thousand to 715 thousand infected cases… and that is just the ones we have confirmed so far. It is probably much higher.
Trump really did a horrible job and is continuing to endanger the American population by misallocating funds, slowness on ventilator manufacturing and distribution, telling the population it is a hoax and to go outside, and now saying he wants to reopen business early. He postponed sending out assistance checks so his name could be put in the memo line. He cares more about his fame and profits than he does about the health of the American people he is supposed to govern. If USA had good leadership they could have reduced the death toll by at least 80%. And it is going to get worse before it gets better.
Estimated Mortality Rate
Basically I don't think death statistics are faked. People are dying. Hospitals are running out of ICU beds and ventilators. I don't think that is faked. I agree that you cannot trust the media. But you can trust some sources for hard statistics and if you know how to read them the story they tell is scary.
Excess Deaths
The number of deaths that are declared due to coronavirus is inaccurate for many reasons. A much better method is by analyzing the "Excess Deaths" tallies. There are many websites that will go into exactly what that is in great detail and I have listed them below. The short definition is:
Excess Deaths are how many deaths happen in a time period which is in excess of what has happened in prior years during the same time period.
The World Health Organization define 'excess mortality' as:
"Mortality above what would be expected based on the non-crisis mortality rate in the population of interest. Excess mortality is thus mortality that is attributable to the crisis conditions. It can be expressed as a rate (the difference between observed and non-crisis mortality rates), or as a total number of excess deaths."
For example, if every year 2,000 people normally die in April but in 2020 there were 5,000 people that died in April, then we would say there were 3,000 excess deaths. If the hospitals declare only 1,000 people died of coronavirus during April but there were 3,000 excess deaths… then what killed all the others? Because some people are dying in their homes and some are dying of "complications" they are not labeled as coronavirus deaths but in actuality they were probably due to coronavirus.
During lockdown people are driving much less than normal. This is actually reducing the number of car accident deaths. So to get true "excess deaths" we would have to find out how many deaths by car accident are normal during a time period and compare it to how many happened this year. Using the above example if 300 of the 2000 normal deaths in April are due to car accidents and in 2020 the car accident deaths drop to 100, then really the excess deaths should be calculated as 3,200 (calculated from (5,000 - 100) - (2,000 - 300)) since that is how many more died than usual not including car accidents. That is only one example of why the excess deaths should be going down instead of up so when we look at Excess Deaths as a factor for determining true fatality of covid-19 we really should be rounding up.
Basic Math
Between March 1st and May 9th the USA recorded 75,600 covid-19 deaths. However for that same period there were 101,600 excess deaths which is 26,000 more. Assuming all were covid-19 (which on average is a valid assumption), that means the deaths were under-reported by 34.4% (75600 x 134.4% = 101600).
During that same time period there were 1,309,090 new cases of covid-19 in the USA. That would be a 7.76% mortality rate but is not really a valid method because those infected have not recovered and may still die in the following month.
Recovered versus Died - the Real Formula
As of July 3rd, 2020 there are 1,235,488 people that recovered from covid-19. There are 132,101 people who died of it. Everyone else that has been infected has neither recovered nor died so cannot be counted in determining the mortality rate.
(132101 / (132101 + 1235488)) = 9.66% mortality rate
However if we factor in that the 132,101 deaths are actually 34.4% under-reported based on above Excess Death logic, then our new math becomes:
132101 * 1.344 = 177543
(177543 / (177543 + 1235488)) = (177543 / 1413031) = 12.56% = one in eight people die
Yes, based on Recovery statistics it shows 12.56% of people that catch coronavirus die.
Today's Statistics in America
Based on today's numbers we can see:
2,890,588 people are currently infected
12.56% of those will die.
363,057 projected deaths of the currently infected
For the last 4 days the numbers are rising in infections from Virus Tracker.
46,552 June 30th
50,111 July 1st
54,437 July 2nd
55,756 July 3rd (and day is not over yet)
For the last 4 days over 3217 people have died of coronavirus for an average of 804 per day. That does not include excess deaths adjustment which would make the deaths 1080 daily.
Simulation and Math Resources
Both these videos do an excellent job of showing the math in a graphical representation with various variables taken into consideration and how a slight adjustment can have profound effects.
Mortality Analysis Summary
Do not believe the media when they say the mortality rate is 2%. They obviously cannot do math nor understand that until we have verified percentages of "how many recovered" and "how many died from coronavirus" we cannot possibly have an accurate mortality rate. The 12.56% mortality rate is definitely going to be closer than the 2 or 3% that news rooms are promoting for whatever agenda they might have.
Those that catch coronavirus and live have permanent damage to their lungs which make it much more likely they will die in the future due to lung-related illness. That's a simple fact yet is not being calculated into the current mortality estimates.
---
Summary
I feel sick. Not sick from having the virus, but sick about the state of the world right now. Sick with tension and sadness.
Everyone needs to self-quarantine and wear a mask when they are in public. Go out in public without a mask when you are infected and assume you just killed 100 people.
The worst part is you will not know you are infected until after you have had the virus for 2-14 days after exposure. You think you are not infected so you go out and have a good time. Over the next 30 days probably 100 people die because of you. Think about that. Yes, some get sick then get better… but while they were sick they infected hundreds also.
Everyone, wear a mask when you are out in public and when possible please stay home and self-quarantine!